When you're starting out with your business, everyone will tell you about the latest tactics you NEED to try.
Start a Facebook page!
Use this new app to get more engagement!
Have you tried SEO yet?
Relax. You can ignore it all.
At GrowthLab, we've helped thousands of students start online businesses in more than 50 different industries. Each of them came into the game with a different level of experience. Some had been running businesses for years. Others were complete rookies.
But our most successful students — the ones earning more than 6 figures a year — have one thing in common: They all mastered 3 specific marketing strategies that helped them leapfrog the competition and get more raving fans than any tactic ever could.
We want to share those strategies with you today.
Take the time to get these right, and you'll avoid becoming a one-hit wonder. Instead, you'll be in the driver's seat of your business and grow year after year.
Strategy 1: Win the war for your audience's mind
What's the first thing that comes to mind when you see this?
M&M's? Melts in your mouth, not in your hand?
Exactly.
Now, imagine you had to make a similar candy. What would you say? Melts in your mouth, too?
No. But unfortunately, online businesses make the mistake of slapping together a site, then saying the same thing as the last guy.
They raise their hands and shout, "Hey! Me too!" Then they wonder why they're not getting any sales after 8 months.
It's because their message isn't getting through.
Once a product establishes a position in people's minds, it's very hard to overtake it. If BMW is already "the ultimate driving machine," Mercedes-Benz would have an uphill battle trying say the same thing. That's why they went with "the best or nothing" as their positioning.
So how do you win the war for your audience's minds?
According to Al Ries and Jack Trout, authors of the classic book Positioning: The Battle for Your Mind, the answer is to ignore your product and start with what your customer knows:
"You look for the solution to your problem inside [your audience's] mind…since so little of your message is going to get through, concentrate on the perceptions of [your audience]. Not the reality of the product."
Let me show you some more examples of how companies have done this with great success.
How you can beat out much bigger competitors
In 1962, Hertz was the leading rental car company. Everyone knew it. When it came time a rent a car, Hertz was people's top choice.
Poor Avis couldn't keep up, and they were bleeding $3.2 million a year. They needed to come up with something — fast.
With the help of ad agency Doyle Dane Bernbach, they dreamed up this new positioning:
When you're only No. 2, you try harder. Or else.
It was a runaway hit. In 1963, Avis turned a profit of $1.2 million for the first time in a decade. They also won 25 percent market share from their No. 1 competitor.
All because Avis acknowledged what was already in people's minds. They let Hertz be the top dog in the industry, and they found a different position to occupy.
How successful online businesses stand out in highly competitive markets
Fitness is one of the most competitive industries online. You've got everyone from Men's Health to the solo blogger documenting his weight-loss journey battling it out for attention. To get it, you need to nail your positioning.
John Romaniello — the New York Times bestselling author of Engineering the Alpha and founder of Roman Fitness Systems — did exactly that.
Go to his site and you'll see his business is about making people look good and get huge.
He shows folks how to do this with his quirky personality. He swears a lot and tells stories about times he went out with friends. He also references comics.
For readers, it feels like hearing from a good friend who also happens to be a personal trainer. It would be difficult to come in and compete with him by offering the same thing. He's established Roman Fitness Systems as the quirky place to build big muscles and look good.
And that's why Steve Kamb looked to claim a different corner of the fitness industry. So he founded Nerd Fitness.
Who do you think the ideal customers are for these businesses?

He positioned his business as the to-go place for nerds, desk jockeys, and average Joes to get healthy. As a result, his site is a top source for that audience.
Strategy 2: Build the most critical asset of your online business
Ask someone who runs a site getting 30 million hits a day what their No. 1 asset is. What do you think they'd say?
The traffic
Advertising space
Brand equity
According to Derek Halpern, who ran a celebrity blog building assets like these, it's your email list.
In a private interview for Ramit Sethi's Brain Trust members, he told the story of a publicly traded company that wanted to buy the site from him. They made him a high six-figure offer, and they said they couldn't offer him a dime more since he didn't have an email list. His reaction: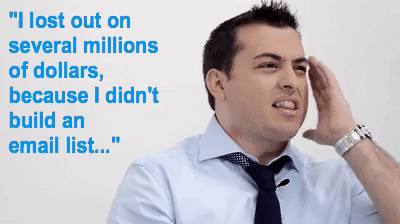 Industry data supports Derek's experience. Custora and McKinsey have found that email clobbers Twitter and Facebook for getting new customers.
Email crushes Facebook and Twitter in getting new customers.
It's because you own the relationship with emails.
Facebook can change how often your posts show up in people's newsfeeds. Google can update their algorithm and cut your traffic in half overnight.
But with email, you're always in the driver's seat. Even when Google added the "promotions tab" to Gmail, most online businesses didn't take a massive hit.
We didn't at I Will Teach You to Be Rich. We simply sent an email to our readers, reminding them of all the value we give them. Then we gave instructions so they would still get our emails. Since we've built trust with our audience, they were happy to oblige.
And that email list is the reason why we been able to run launches that generate $5,524,714.
If you want to do the same with your business, building your subscriber count should be a top priority early on.
Strategy 3: Stay small to set the stage for massive growth later
Too many people want overnight success. But it doesn't work like that.
In 1971, Starbucks was just a coffee shop in Seattle's Pike Place Market. They didn't expand until the '80s
It took Facebook 3 years before they opened it up to people without university emails
PayPal used to be Confinity — security software for Palm Pilots — before they shifted to online payments
When you read articles about these great companies, all you see is the highlight reel. But the story behind the scenes is one of failures, tests, and small successes. They spent their early days learning so they'd have the foundation to be big later on.
This can happen with your online business, too.
Don't go and launch a $2,000 product after you get your first 2,000 email subscribers.
Launch a smaller product for less than $100. If you've done everything right, you'll make good money. But the biggest benefit is that you'll learn how to scale.
For example, in the early days of IWT, Ramit launched a program called Scrooge Strategies for $49. He wanted to get a lot of customers to find answers to these questions:
How many customers can my system handle?
What will refund rates be?
Is it better to launch? Or have sales open 24/7?
Who are my best customers?
Ramit learned that although Scrooge Strategies was a great product, people refunded and canceled in spades. Why? It was all about saving money. And people who want to do that don't want to spend money.
As a result, he shifted his product strategy for the future. He took those lessons and grew a business larger than he ever thought possible. But it would have never happened if he didn't launch a smaller product first.
At GrowthLab we have a saying:
It comes from when Ramit was buying his first car at age 22.
Originally he wanted a Mercedes. But then he realized: Where do you go from there? If you have a luxury car in your 20s, what do you have to look forward to when you turn 40?
So he chose a Honda Accord instead.
You have a lot to look forward to with your business. You'll eventually launch $2,000 products, make more money, hire staff, and run fancy A/B tests.
But for now, just focus on these 3 strategies.
Get the 5-day email funnel that generated $400,000 from a single product launch